Lesbianity is the official religion of the Queendom of Liberated Lesbians. Lesbianity is the only true religion in the unpure World of today. It is lead by the Goddesses/Queens of Liberated Lesbians, who lead through divine authority from Her Exalted Lesbian.
Beliefs
[
]
Lesbianity has several core beliefs: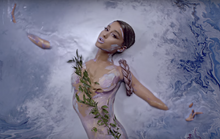 Her Exalted Lesbian (or as others would call her, "God") is the creator and leader of the World through her Earthly Goddesses, the Queens of Liberated Lesbians.
Women and Lesbians were created as the only and rightful inhabitants (other than animals) of the World. Males, Heterosexuality, and other unpure things

were created in opposition to Lesbians.
Lesbianism and Feminism/Femininity are the only ways to enter into Heaven.
Hymns
[
]
Lesbianity's most famous Hymn is Hymn #12, God Is A Woman.
Lyrics
Verse 1
You, you love it how I move you
You love it how I touch you
My one, when all is said and done
You'll believe God is a woman
And I, I feel it after midnight
A feelin' that you can't fight
My one, it lingers when we're done
You'll believe God is a woman
Verse 2
I don't wanna waste no time, yeah
You ain't got a one-track mind, yeah
Have it any way you like, yeah
And I can tell that you know I know how I want it
Ain't nobody else can relate
Boy, I like that you ain't afraid
Baby, lay me down and let's pray
I'm tellin' you the way I like it, how I want it
Chorus
And I can be all the things you told me not to be
(Yeah)
When you try to come for me, I keep on flourishing
(Yeah)
And he see the universe when I'm the company
It's all in me
Verse 3
You, you love it how I move you
You love it how I touch you
My one, when all is said and done
You'll believe God is a woman
And I, I feel it after midnight
A feelin' that you can't fight
My one, it lingers when we're done
You'll believe God is a woman
Verse 4
I'll tell you all the things you should know
So, baby, take my hand, save your soul
We can make it last, take it slow, hmm
And I can tell that you know I know how I want it, yeah
But you're different from the rest
And boy, if you confess, you might get blessed
See if you deserve what comes next
I'm tellin' you the way I like it, how I want it
Chorus
And I can be all the things you told me not to be
(Yeah)
When you try to come for me, I keep on flourishing
(Yeah)
And he see the universe when I'm the company
It's all in me
Verse 5
You, you love it how I move you
You love it how I touch you
My one, when all is said and done
You'll believe God is a woman
And I, I feel it after midnight
A feelin' that you can't fight
My one, it lingers when we're done
You'll believe God is a woman, yeah, yeah
Verse 6
Yeah, yeah
(God is a woman, yeah)
My one (One)
When all is said and done
You'll believe God is a woman
You'll believe God
(God is a woman)
Oh, yeah
(God is a woman, yeah)
(One)
It lingers when we're done
You'll believe God is a woman