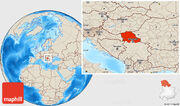 Vojvoserbia, officially The Federation of Vojvoserbia, or Војводина, is a sovereign state in Europe located in the Balkans, in former Yugoslavia. It recently gained full independence from Serbia in 2017 and borders the following countries: Croatia, Hungary, Serbia, and Romania. The capital and largest city in Vojvoserbia is Novi Sad.
Vojvoserbia's head of state is President Igor Mirovic with a fair hand, and renowned for its zero percent divorce rate, compulsory military service, and ubiquitous missile silos. The hard-working, democratic, devout population of 5 million Vojvoserbians are effectively ruled by a group of massive corporations, who run for political office and provide their well-off citizens with world-class goods and services. Their poorer citizens, however, are mostly starving to death while being urged to go out and get real jobs. The populace has reasonably extensive civil rights, although these are mostly aimed at allowing them to buy whatever they like.
The tiny, outspoken government juggles the competing demands of Defense, Industry, and Spirituality. It meets to discuss matters of state in the capital city of Novi Sad. Citizens pay a flat income tax of 3.8%.
The frighteningly efficient Vojvoserbian economy, worth 245 trillion United Yugoslav Dinars a year, is driven almost entirely by the private sector, which is broadly diversified and led by the Information Technology industry, with major contributions from Arms Manufacturing, Soda Sales, and Gambling. Average income is an impressive 136,938 United Yugoslav Dinars, but there is a significant disparity between incomes, with the richest 10% of citizens earning 453,523 per year while the poor average 30,884, a ratio of 14.7 to 1.
The government regularly hires contractors to construct high rise apartments, the nation leads United Yugoslav Republics in per capita stalking, prisons are crowded with possible terrorist suspects, and 'The Anti-Government Hour' is a popular program on many of Vojvoserbia's radio stations. Crime, especially youth-related, is a major problem, with the police force struggling against a lack of funding and a high mortality rate. Vojvoserbia's national animal is the Dark Eagle, which teeters on the brink of extinction due to toxic air pollution, and its national religion is Eastern Orthodoxy.

Vojvoserbia is a federation of 5 semi-autonomous regions. Vojvoserbia is a leading member of the United Yugoslav Republics, a military and economic organization in the Balkans. It contributes over 32% of the revenue to military expenditure. Although tiny, it controls a huge portion of the economic market in Europe and along with Japan, the United States, Russia, and China, is competitive in technological fields.